BIMT is licensed and approved by the Alabama State Board of Massage Therapy, as well as members of ABMP.
We offer a 650 hour approved curriculum program with different track options based on your lifestyle and needs.
Mission Statement:
Our mission at the Bluewater Institute for Massage Therapy is to provide our students with the best training and education possible in the field of massage therapy according to standards set by the Alabama State Board of Massage Therapy. To accomplish this, we provide a prestigious curriculum which includes theory, intensive classroom education, guided practice, supervised clinical practicum, and public service. We have taken a leading role in the development of massage therapy standards, and have created a healthy environment for learning and practicing as a massage professional.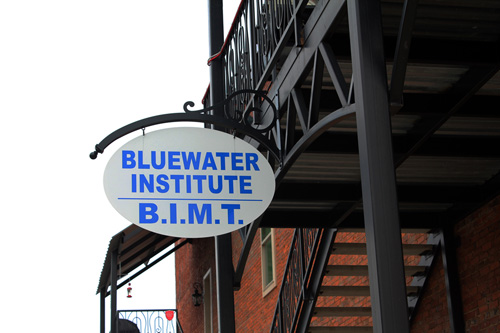 BIMT Certification Program Objectives
To prepare students to enter the work force as skilled, certified and licensed massage therapists.

To prepare students to use the principles and techniques of massage to assess and treat disorders of the human body which may benefit from massage.

To provide students with adequate information, demonstration, and practice to perform massage procedures capably and safely, which will include a variety of modalities.

To empower and prepare students to retain and apply education needed to feel confident about taking and passing their Massage & Bodywork Licensing Exam (MBLEx). This is the board exam the state of AL Board of Massage Therapy recognizes in order to obtain a license to practice massage therapy in Alabama.

To provide students with the necessary information and knowledge to understand the business, marketing, budgeting, insurance, advertising, ethical, and legal principles, issues, and concerns of the profession.

To enable students to communicate effectively with clients, other health care providers, and the community at large as to the benefits and advisability of massage.

To provide students with the knowledge and skills necessary to open and manage a private practice.
Why choose Massage School at Bluewater Institute for Massage Therapy:
If you are considering becoming a massage therapist, you probably already know that there are many benefits of a massage therapy career. For those considering a career in this profession you may have been asked, "why do you want to become a massage therapist?" For most the answer is simple and straight forward. If you are serious about earning a Certificate or Diploma in Massage Therapy there will be a number of rewarding opportunities available after graduating from a massage therapy school. Being able to provide a better life for yourself and your family are just a few of many reasons why people enjoy entering into this profession. Learn more about the massage therapy field and find out what makes this career so rewarding with these 10 reasons to become a massage therapist.
1. Massage therapists graduate with the skills they need to get a job right away
Massage therapy school involves a lot of hands-on training. Students are trained in musculature, anatomy, and multiple massage therapy techniques. By the time massage therapy students graduate, they have enough practical experience to work at spas, hospitals, clinics, or even out of their own homes.
2. Massage therapists are licensed professionals
Most states require massage therapists to be licensed. To become a licensed massage therapist, one must complete a certification or degree program at a massage therapy school, and obtain hundreds of hours of practice. Massage therapy has become a respected profession over the years because of the stringent requirements for becoming a massage therapist. BIMT is certified and licensed, as well as AL Board of Massage therapy approved. We offer a 650 hour program of hands on and class room education in advanced massage therapy.
3. Massage therapists have the option to work in exciting and exotic locations
Tourist spots and cruise ships all over the world employ massage therapists making this a great occupation for those who enjoy working in beautiful surroundings. Those who don't mind relocating may get the opportunity to work in a resort on a tropical beach or a lodge surrounded by snow-covered mountains. For those who enjoy peaceful and relaxing environments this may sound like a dream come true, and for a number of happy professionals in this field it is.
4. Massage therapists can set their own hours
Many massage therapists are self-employed allowing them to set appointments around their own schedule. Being able to make your own schedule is a huge advantage for most who are considering becoming a massage therapist.
5. Massage therapists work in relaxing environments
Massage therapists spend their working hours in a peaceful environment surrounded by scented candles, soft towels, and soothing music. The ambiance makes it a relaxing experience not only for the client, but for the massage therapist too.
6. Massage therapists help people
Massage therapists provide an invaluable service to people who are in pain, recovering from injuries, or experiencing stress. Massage therapy speeds up the healing process, improves circulation, and can even restore emotional balance.
7. Clients look forward to seeing their massage therapist
Whether the reason is medicinal, therapeutic, or just a special occasion, people look forward to getting massages. Unlike going to the dentist or doctor, seeing a massage therapist is a positive experience associated with feeling good.
8. Massage therapists are physically active
Massage therapists work on their feet and engage their entire body when giving a massage. The nature of the work is physically demanding, and as a result, many massage therapists are in great shape.
9. Licensed massage therapists are in high demand
Because the value of massage therapy is becoming more widely-recognized, job growth over the next decade is predicted to grow considerably according to the U.S.Bureau of Labor Statistics. New massage therapy jobs are constantly being created in places such as nursing homes and office buildings.
10. Massage therapists can become their own boss
A large percentage of massage therapists are self-employed. Many work out of their homes or travel to clients' homes. Those who have their own thriving practice may employ other massage therapists to offer clients a whole range of services and techniques.
For more information about how to become a certified and professional massage therapist, please contact BIMT by call/text to 256-272-1895.
Visit our website at www.bimt.massagetherapy.com
We offer Night Classes, Day Classes, and a Hybrid Learning Class (a blended approach to online learning paired with hands on training. Hybrid Learning is ideal for out of town students.)